USO
About the USO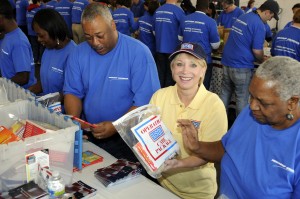 For more than 70 years, the USO has been the way for the American people to say thank you to our nation's service men and women and their families.
The USO (United Service Organizations) lifts the spirits of America's troops and their families millions of times each year at hundreds of places worldwide, by providing a touch of home through centers at airports and military bases in the U.S. and abroad, top quality entertainment, and innovative programs and services. The organization also supports those who need the USO most, including forward-deployed troops, military families, wounded warriors and their families, and the families of the fallen.
The USO, a private nonprofit organization, could not do what it does without the generosity of individuals and corporations.
To learn more about the USO, please visit www.uso.org.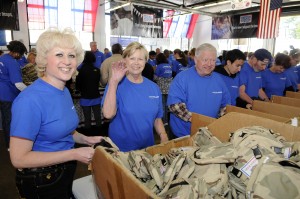 About USO of Metropolitan Washington-Baltimore
USO-Metro is a nonprofit 501(c)(3) organization chartered by Congress, and dedicated to  "serving those who serve, and their families" in Washington D.C., Maryland and Northern Virginia.  It is through the generous financial support of individuals and organizations in the local community that USO-Metro is able to fulfill its mission. With the help of nearly 5,000 devoted volunteers, USO-Metro provides signature USO services to the nearly 300,000 military members and their families living in the region and the 150,000 who travel through our local airports at area military hospitals, nine locations, four USO airport lounges and a "deployable" Mobile USO. Signature programs and services include holiday programs like Turkeys for Troops and Project USO Elf, emergency housing and food assistance, and caring for our wounded, ill and injured troops and their caregivers. For more information, please visit www.usometro.org or "like" us on Facebook and follow us on Twitter by searching USO-Metro.